Master Your Gift-Giving Skills This Holiday Season with These 20+ Tips!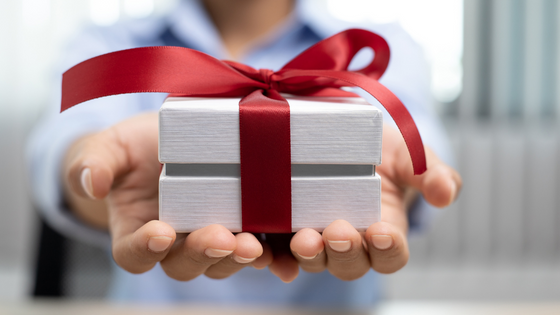 Giving a good and thoughtful gift is not always easy. But my lovely sister-in-law, Julie Dalavai, is hands down the best gifter I know and makes it look easy.
Year after year, whether it's Christmas, birthdays, or other special occasions, Julie always shows up with the most thoughtful gift. Hands down.
There was the year she and my brother gifted my husband, Robert, with a subscription to Biblical Archaeology, a magazine he voraciously devoured with every issue!
Or the year Julie gave me a gift certificate to a favorite local tea room. This was many years ago when the girls were toddlers and finding "me time" was rare, if not impossible. It felt like heaven when I treated myself to lunch at a calming and beautiful place like the tea room. I nibbled on a chicken salad croissant, leisurely sipped a Lady Grey tea and indulged in a slice of chocolate cake all to myself (with no one begging me to share!).
Julie is such a thoughtful gifter that she could do it professionally. We've urged her more than once to start a side hustle.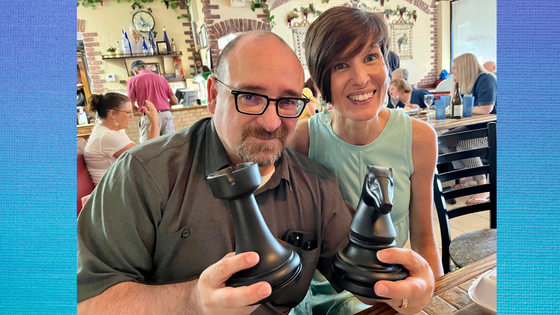 Not too long ago, I gathered her best tips for gift buying, and I am sharing them with you, dear reader, well ahead of Valentine's day in this question-and-answer format.
Leona: Julie, what are some places where you get ideas for good and fun gifts?
Julie: Here are some places I like to get ideas:
Uncommon Goods (website)
Do an Amazon search for their sport, interest or hobby. For example, "gifts for artists," "gifts for musicians," "gifts for golfers" and "gifts for horse lovers" to name a few.
Etsy has some unique gifts if you have the time to search there.
Deals and Steals is a segment on Good Morning America where they often have unique merchandise marked down the day they air it.
Leona: You're such a thoughtful gifter for each person. How do you do that so effortlessly?
Julie: Here are some general tips:
I select gifts based on a person's extracurricular interests or everyday/practical needs or things that remind them of where they're from.
I also try to consider an appropriate size gift. Would it fit in their home or office without being obtrusive?
I also ask:
Are they more into things they can use or admire?
Do they like sentimental things?
Have I seen them use something similar before?
What do they talk about?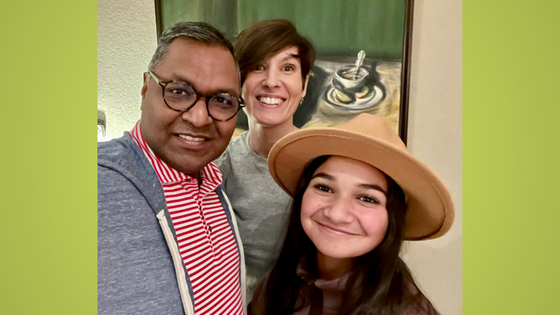 Other tips:
Start early (especially for Christmas) as it reduces stress and it's easier on your bank account.
Make a list of ideas throughout the year. When you see something when you're out, at someone else's house, traveling or an idea on TV, make a note of it on your list.
Leona: How about for those folks who are hard to buy for?
Julie: For those folks, I may alternate each year and try to find a unique gift one year and a gift card the next. Sometimes I feel like gift cards are an easy way out and not personal enough, but I've never seen anyone bummed out when receiving one. I also try to ask their friends/mates for ideas.
Leona: Do you think it's wrong to ask a person for a list (this applies especially at Christmas)?
Julie: I think it's fine to ask someone for a list of what they want then you know you can't go wrong, especially if that person is hard to buy for. Depending on the friend or family member, I may ask them directly.
Leona: What are your thoughts on "experience" gifts? They can be pricey.
Julie: I think "experience" gifts are worth it. Sometimes they are pricier but create memories; if you stop and ask someone what you gave them for Christmas two years ago, they probably won't remember a standard gift.
Experience gifts are appropriate when the person is someone you think may have everything. It's even better if it can be an experience for two so they can share it with a spouse, friend or child.
Experience gifts can also be, for instance, gifts that make a person's life better. These are usually things that make their lives more efficient, and organized, save space, brighten up their area or make their after-work schedule more fun and efficient. Maybe a bag to carry work things in, office décor or even a book or activity that takes their mind off work after hours.
For a cook, consider a kitchen gadget that makes dinner easier. You get the point.
Leona: What are some cool gifts you've come across recently that have caught your eye?
Julie: Cool gifts I have seen but not purchased include:
A BlendJet
Lock Laces
Pinch Me Therapy Dough
Portable Campfire
Attachable smartphone camera lenses
Personalized socks where you can add pet or actual family faces
Personalized dog blanket (send a photo of your dog and it's reproduced on a blanket)
Leona: Julie, what was your most favorite gift as a kid and as an adult?
Julie: My favorite gift as a kid was a very realistic baby doll that was a boy. I bought real baby boy clothes for it and loved that it wasn't a girl like all the others. My favorite gift as an adult is a charm bracelet my grandmother gave me when I graduated college. I can keep adding to it and have it forever.
Leona: We've covered a lot of ground and a lot of tips. Anything else you'd like to add?
Julie: I would say there are special gifts that cost more but if you have some time and start early, keeping an eye out for sales, you can give them and still be budget-friendly.
Although I'm not good at this, I think it's ok to give gift receipts and let a person know they can exchange something because you want to get your money's worth and you want them to enjoy what they get (buying early and online may make this a little harder).
And if you know there is a place someone likes to shop, check that store's website and sign up for the emails because you can get alerts and discounts, and (you can unsubscribe later)!
That's a wrap! Keep these gifting tips in mind the next time you're shopping for just the right gift – from teacher gifts to Valentine's to Christmas, birthdays, anniversaries or any occasion that calls for a celebration. As Julie advises, if you can, start early, so you can keep your gift buying affordable and you don't break the bank!
---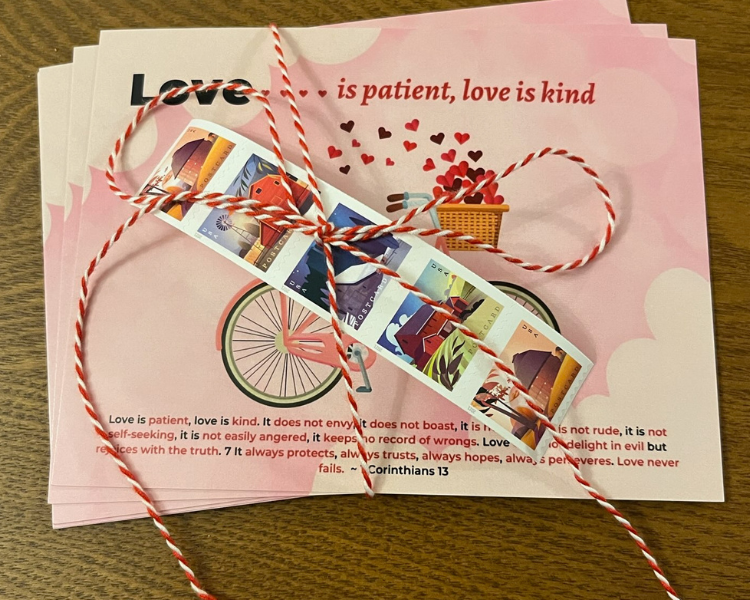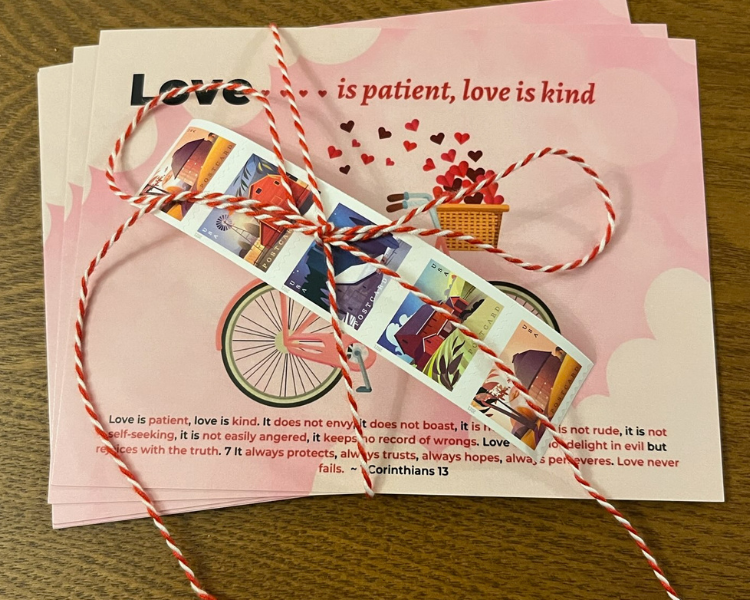 VALENTINE'S SPECIAL! From 1/23 to 2/15, with every Scott Ink Scripture Calendar order, you will receive five free Valentine's Day postcards and stamps to send to your Valentines (until I run out!) The postcard features the attributes of love as found in 1 Corinthians 13. Send them to your BFFs, family, grandkids, nieces, nephews, friends or whoever you want to show some love to this Valentine's Day! Postcards are also available for purchase in sets of five or 10 (stamps included) and free shipping! CLICK TO ORDER