Finding the Holiday Spirit Amidst the Tasks & the Tinsel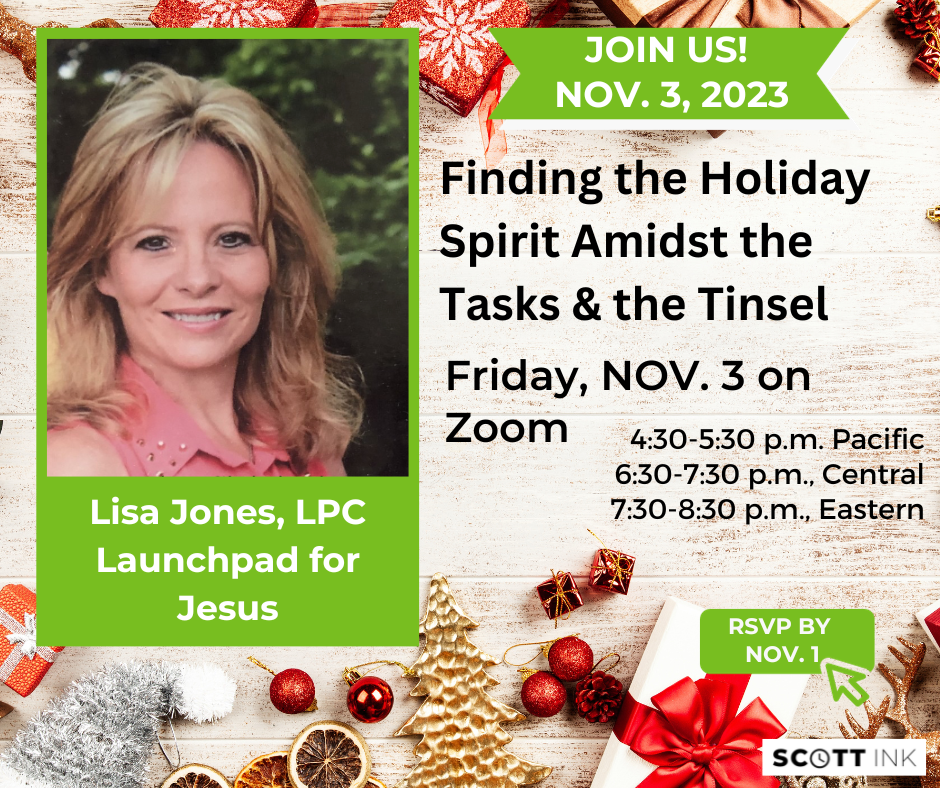 The holidays will soon be here! Does that make you cringe, be joyful or both? While there is so much to look forward to during November and December, often there is a lot of stress that comes with shopping, getting ready for family gatherings and let's not forget decking the halls Pinterest style. If all of that makes you feel overwhelmed (and it's only October!), then join us Nov. 3 for a meaningful and helpful gathering to help you prepare for the holiday season spiritually. You are invited to an interactive and engaging online fellowship led by Lisa Jones. Lisa will share her tips and strategies for experiencing peace and joy amidst the busyness of the Christmas season.
To join us for the Nov. 3 online fellowship, complete this RSVP form by CLICKING HERE. You will be emailed a link to join us via Zoom.
Lisa Jones, LPC, Biography
Meet Lisa Jones, our Nov. 3 Fellowship Speaker
Lisa shares a little bit about herself: I grew up in a Christian home where I attended church regularly. I grew up knowing who Jesus was but I had not accepted Him as my Lord and Savior until I was 24 years old, in 1994. This is where the real journey began!
God is so good and His timing is perfect. The week I accepted Jesus as my Lord and Savior, my husband also encountered Him at home. The next weekend at church I went forward to profess accepting Christ and my husband came forward to rededicate his life to the Lord. It wasn't long before God had called my husband to pastor a mission church and attend Bible College. We both went through Evangelism Explosion (a program to learn to share your faith) and God called me to attend Southwestern Baptist Theological Seminary to get my Master's degree in Marriage and Family Counseling.
I am a Licensed Professional Counselor in Texas and an Advanced Life Coach through the American Association of Christian Counselors. I have been a faith-based counselor since 2005 and I have to say, "I love my job!" I love walking alongside people in their life journey helping them see God in their circumstances. God has given me the desire to help people know who Jesus is and what He did for us on the Cross; to understand who they are in Christ; grow in their knowledge of Christ and reflect Him in their daily life. I want to help God's children understand that when they accepted Jesus as their Lord and Savior, they became an ambassador for Christ, a vessel for God to work in and through for His glory.
As well as a servant of Jesus, I am a wife and mother of two children and grandmother of one grandchild. I love to spend time in God's word in nature, preferably under a tree by the water, reflecting in God's glory.
Register by Nov. 1, and don't forget to invite a friend!
To join us for the Nov. 3 fellowship, complete this RSVP form by CLICKING HERE. You will be emailed a link to join us via Zoom.