A Calendar with Community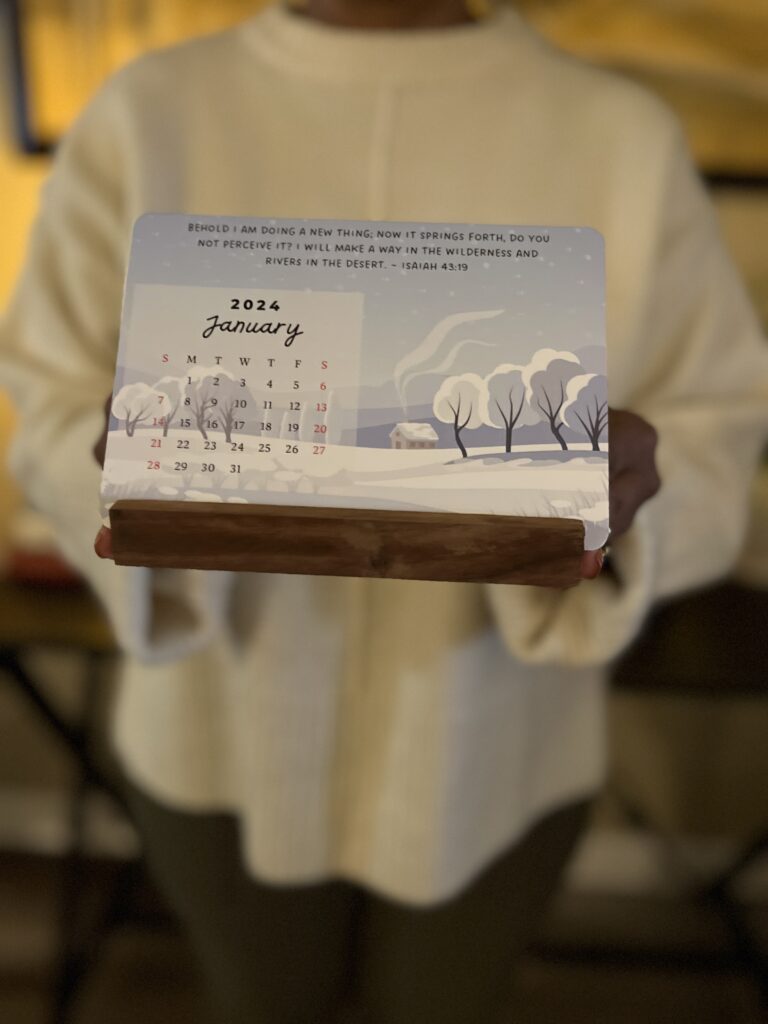 Have you ever bought a calendar that comes with community? That's one of the many unique things about the Scott Ink Scripture Calendar – it comes with community and meaningful connections through a Facebook Group. Since the spring of 2023, a group of women have been finding community and connection through living more intentionally. Search for us on Facebook – Scott Ink Intentional Living Community. Many women in the group purchased or received the 2023 calendars as gifts. However, you don't have to buy the calendar to belong to the Facebook Group. We invite any woman to join and be a part of this thoughtful community of Christian believers.
Each week, we share how we are going to live more intentionally. By sharing it creates a certain level of accountability. It's also a way to pray and encourage each other as we strive to live the way Jesus lived. During Jesus' short three-year ministry here on Earth, He was intentional in how He lived – from what He said, how He spent his time, where He went, His relationships, ministry work, priorities, and purpose.
In this community, we want to mirror Jesus' intentional living and how He was so cognizant of the precious time He had to live out God's purpose for Him here in this Kingdom on Earth.
On Wednesday, we share prayer requests. Many women in the community belong to other communities and prayer groups. Yet some share very openly about their prayer needs because this is a private community and they feel safe in our space. It's a joy to pray for every need.
Thursday is "Thankful Thursday" as we share what we are grateful for. Gratitude is a core value of intentional living with a spiritual focus. One of my pastors recently shared this quote on the importance of gratitude: "Gratitude is strongly and consistently associated with greater happiness. Gratitude helps people feel more positive emotions, relish good experiences, improve their health, deal with adversity, and build strong relationships" – Harvard Health Publishing, August 2021. The scientific study is reinforced in this verse: "A joyful heart is good medicine." – Proverbs 17:22.
One of our community members, Julie Kay Harbour, author of Biblical Journaling for Anxiety, thoughtfully led us in a Gratitude Journey exercise in the weeks leading up to Thanksgiving. Participating in the creative ways she explored gratitude was fun and meaningful. During Christmas, Julie and I are teaming up to do an Intentional Advent. Starting December 3 through Christmas day, we are exploring simple ways to prepare our hearts for Jesus' birth and what it means for Christian believers. If you're reading this during Advent, please search for Scott Ink – Intentional Living with a Spiritual Focus on Facebook and join us!
As you can see, the calendars are just a starting point to explore intentional living with a spiritual focus. They are a beautiful way to keep God's scripture before us while serving as a practical reminder of the date. It's popular with work-from-home folks who have shared that it's a lovely calendar to display in their workspaces.
Those who purchased the calendars for 2023 have them in their offices – whether working from home or in an office building. I've even seen many displayed in kitchens in people's homes or in their living rooms. Mine sits next to my laptop in my home office, and I use it daily to reference what day it is, but also get encouragement from the scripture verse for that month.
Consider purchasing the 2024 calendar if you want a thoughtful gift for your friends and loved ones. See what other folks say about the calendars here (scroll down a bit to see the testimonials).
For 2024, I'm offering two calendars:
• Calendar featuring Seasonal Graphics
• Calendar featuring Nature Scenes (great for men and nature lovers)
The calendars also support this Intentional Living community, which has become a way to minister to other women using my spiritual gifts. Who knows where God will lead and grow this new ministry adventure?
Those who join my mailing list can receive a coupon code for free shipping on your first order (minimum purchase $27). CLICK HERE TO JOIN THE MAILING LIST!