Biblical Journaling for Anxiety with Julie Harbour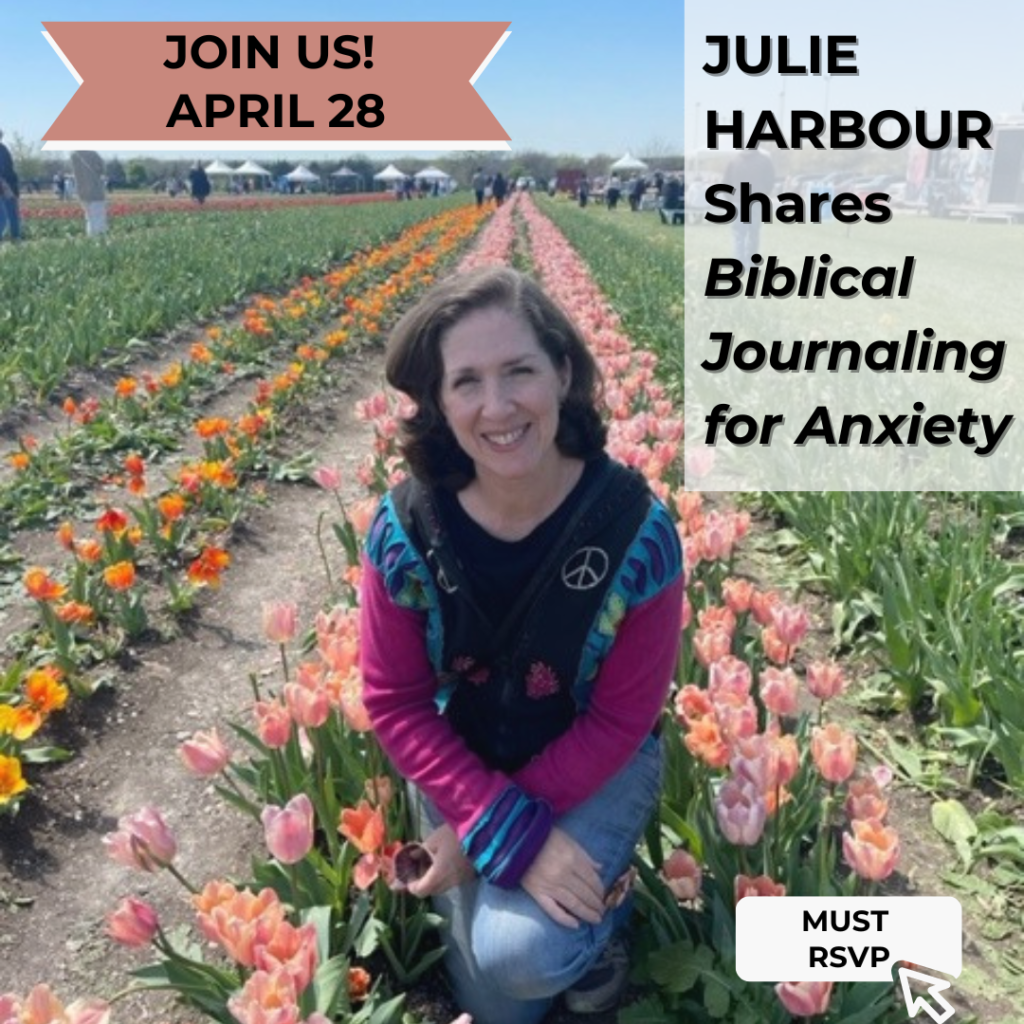 This Online Fellowship is for you if you:
Want to develop better coping skills when you're faced with worry, fears, doubts and anxiety
Want to have a deeper understanding of God's character and the hope He provides to those struggling with anxiety
Want to learn more about how journaling can help provide a healthy therapy and outlet for anxiety
To join us for the April 28 fellowship, complete this RSVP form by CLICKING HERE. You will be emailed a link to join us via Zoom.
The definition of anxiety is "distress or uneasiness of mind caused by fear of danger or misfortune." The Bible and Jesus' teachings directly address the worries of life, which can lead to anxiety and how to be encouraged by scripture.
During our April 28 fellowship, Julie Harbour will lead us in a simple yet practical exercise of dealing with anxiety through Biblical journaling.
During this time, Julie hopes you will:
Gain knowledge about the amazing brains that God has given us, especially regarding anxiety.
Understand the importance of meditating on God's word.
Experience a time when your brain is flooded with God's calming and reassuring truth of His word.
Learn more about Julie and her heart for helping other women in her bio below.
Please know Julie is not a professional counselor. She has walked through seasons of anxiety like most of us have and has discovered the value of journaling. She will show us how to use journaling as a method for addressing anxiety and will share her personal experiences.
Julie Harbour
Julie is a native Texan! She was raised in a Christian home and attended church with her family. She has been a member of several different denominations. Her childhood was spent in the Methodist church. She joined the Baptist church as a teenager and today attends a non-denominational church.
Her educational background is also diverse. Julie earned her Bachelor of Science in Elementary Education from Baylor University in Waco, Texas. She later earned an MBA from TCU in Fort Worth. In addition to her degrees, the health challenges she and her son have faced led her to earn her Certification as a Natural Health Professional (CNHP). Most of her working experience was as a classroom teacher in a public school. Here, she began her intrigue and interest in the extraordinary human brain! She also worked briefly in the business world as the Educational Services Manager for the Fort Worth Star-Telegram. Her many educational, work, and service opportunities in the church showed that her gifts were in her communication abilities.
Family has always been of utmost importance in Julie's life. She has three wonderful men in her life…her husband, a teacher and former football and wrestling coach, and her two teenage boys. Although she loves all the men in her life dearly, being the only female in her household has given her a hunger and appreciation for female companionship.
Today, you will find her caring for her family's needs, working in her yard, reading a good book, or having coffee with a friend. She loves nature, science, art, music and everything related to creating! Her prayer is that God will direct her to use her strengths and gifts to meet the needs of others.
Invite a friend to join you, and bring your journal and pen!
To join us for the April 28 fellowship, complete this RSVP form by CLICKING HERE. You will be emailed a link to join us via Zoom.