Yesterday, we closed the chapter on the past 365 days of a roller coaster ride (whew!) Today, we look ahead to the next 365 days of 2021. This morning, I woke up with eager anticipation, like a child on Christmas morning.
It might as well be Christmas for me. With the new year here, the presents I'm most looking forward to can't be wrapped with a bow or sealed with Scotch tape. The presents I'm most looking forward to in 2021 are hugging friends again. Seeing the warm smiles of neighbors, teachers or even clerks at the grocery store without masks. Attending one of my daughters' school performances or having lunch with them – in person.
There's a lot to look forward to. It's not only a new day, but a new year with all of the promise, dreams and vision of what 2021 may hold. This time of the year, I like to do a little self-reflection.
Download my free printable on fun and meaningful questions to guide you in clarifying a vision for 2021.
Why look back?
What does self-reflection look like, and why should we make time for it? Going over the past year and asking myself some thoughtful questions and writing down the answers allows me to process the past and welcome the future. Think of this exercise as therapy on paper. And after a year like 2020, therapy can be a good thing, right?
Thinking through some of these questions also gives me clarity, self-awareness, and a greater vision for things to come.
Self-reflection also resets my mind and heart to enter the new year with a sense of hope and anticipation, leaving the past behind and looking forward to new beginnings.
What is your vision for 2021?
Did that question challenge you a bit – what is your vision? If you don't know or don't have one, that's okay.
Vision is something I've overlooked most of my life. It's one of those words that CEOs throw around a lot, and I never really understood its importance until recently. Up until the last decade of my life, when I started reading business books and listening to podcasts and TED Talks by influencers who addressed the topic in thoughtful and meaningful ways, I didn't give much thought to what "vision" is.
Defining "vision"
Dictionary.com's definition of "vision" is "the act or power of sensing with the eyes; sight."
Other definitions I like include:
Something seen in a dream, trance, or ecstasy" (Merriam-Webster)
The ability to think about and plan for the future, using intelligence and imagination (MacMillan)
A mental image produced by the imagination (American Heritage)
A vivid mental image, especially a fanciful one of the future (Oxford)
My business coach and mentor, Benson Agbortogo, often quotes Habakkuk 2:2 on the importance of writing down vision in your life: "And the Lord answered me, and said, Write the vision, and make it plain upon the tables, that he may run that reads it." – KJV
Without a written vision, he says, is like "driving aimlessly without a destination."
So, won't you join me in doing a little self-reflection as we start the new year so we know where we're headed and don't drive aimlessly?
To help answer the question – what is vision – here are some questions I have compiled to reflect on. My thanks to Marie Forleo, Michael Hyatt, Brooke Castillo, Benson Agbortogo, Tony Robbins and Joanna Gaines for providing inspiration for some of these questions.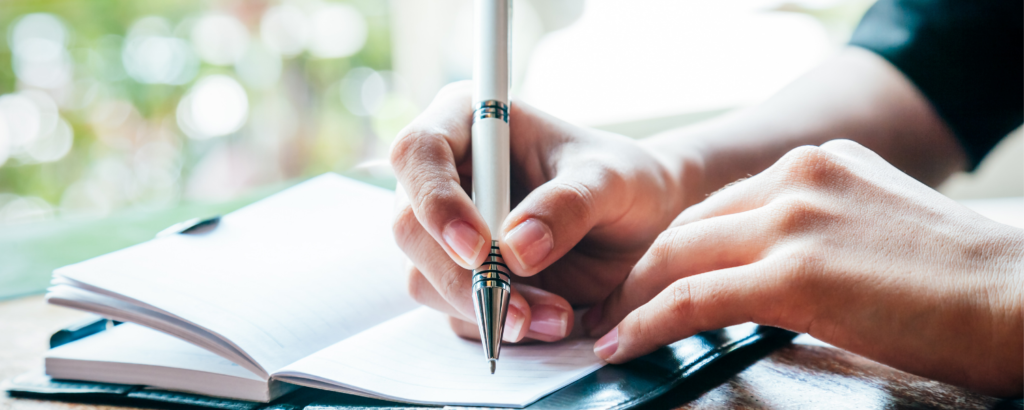 Questions for self-reflection to clarify your vision
Grab your journal, a good pen and maybe a mug of your favorite hot beverage, and dive into some of these questions with me. If you don't have a journal, here's a free printable of the questions. I'd encourage you to print it out and write your answers down. Even if you don't tackle the entire list, pick one or two that speak to you and make you think.
You'll be that much closer to having your vision for 2021 as a result.
Self-reflection questions:
List one to three lessons that 2020 has taught you?
What were you most proud of in 2020?
What's an obstacle you overcame last year?
What's a mistake you made in 2020 that you don't want to repeat in 2021?
Were there any game-changers in your life last year? If so, list them.
What was something surprising that happened as a result of the pandemic that was a positive blessing?
What is something that you missed doing or experiencing in 2020 that you're looking forward to this year?
What is something good from 2020 that you want to carry into 2021?
What do you want to create, experience or achieve in 2021? (I like to think of this question in terms of family, faith, work, relationships, spiritual, health, hobbies, etc.)
In 2021, I want to do more of …
In 2021, I want to do less of …
In 2021, I am most looking forward to …
Did you get through the entire list? Or were there just a few that caught your eye that you wanted to answer? Whatever you wrote, I want to congratulate you for giving yourself some meaningful time to reflect. I hope the questions were a fun exercise and gave you greater clarity for your vision for 2021.
Don't forget to save your answers and ask God to give you a vision for your life based on what you wrote. Then wait expectantly for what He will reveal. By saving your answers, you can refer back to them throughout the year to make sure your vision stays in focus.
Happy New Year!
Please follow and like us: